Ontario-born, former Devil's Glen downhill skier Ryan Little has been contributing to the Ukrainian defence against Russia since he learned of the invasion of Kyiv on Feb. 24, 2022.
He's a self-described do-it-yourselfer, which is why he has his own bulletproof and a new VW Passat he drives along mountain paths in Hungary, Slovakia, Romania and Austria into western Ukraine. On the way to Ukraine, his station wagon and the trailer behind it are packed with food, boots, toys and medicine. On the way back, he's taxiing women, children, and elderly passengers, taking them to find safe places to stay Western Europe.
He's helped more than 2,000 refugees leave Ukraine and find a safe place to live.
Little lives in Vienna, Austria, but is visiting his parents at their home in Collingwood. He was invited to a local Probus club meeting to share stories about the work he and others have been doing on a grassroots level to supply Ukrainian volunteer armies and help refugees find safe places to stay.
Almost immediately after Russia invaded, Little decided he would go to the Ukrainian border and bring all he could with him to support the defence of Ukraine from the Russian invasion.
He purchased his station wagon, cleaned out the shelves at his local hunting/outdoors store, purchasing $30,000 worth of boots, gloves, nets, pants, fleeces, and other items, packed a rented trailer with the goods, and then drove to the nearest border crossing, about the distance from Collingwood to Montreal.
At the border, he met people collecting supplies for the Territorial Defense Forces — a volunteer army that has ballooned to include about half the population of Ukraine. There he found an old Soviet station warehouse packed with tents and inhabited by teetotalers, most of them students, who had taken on the work of getting supplies from the west side of the country to the east, where Ukrainian forces were fighting off the Russian invasion.
After unloading the supplies he brought, Little went to a nearby shopping centre where refugees had gathered. He Googled how to write "Vienna" in Ukrainian, traced it out on a sign and walked around until he found someone who wanted a ride to Vienna.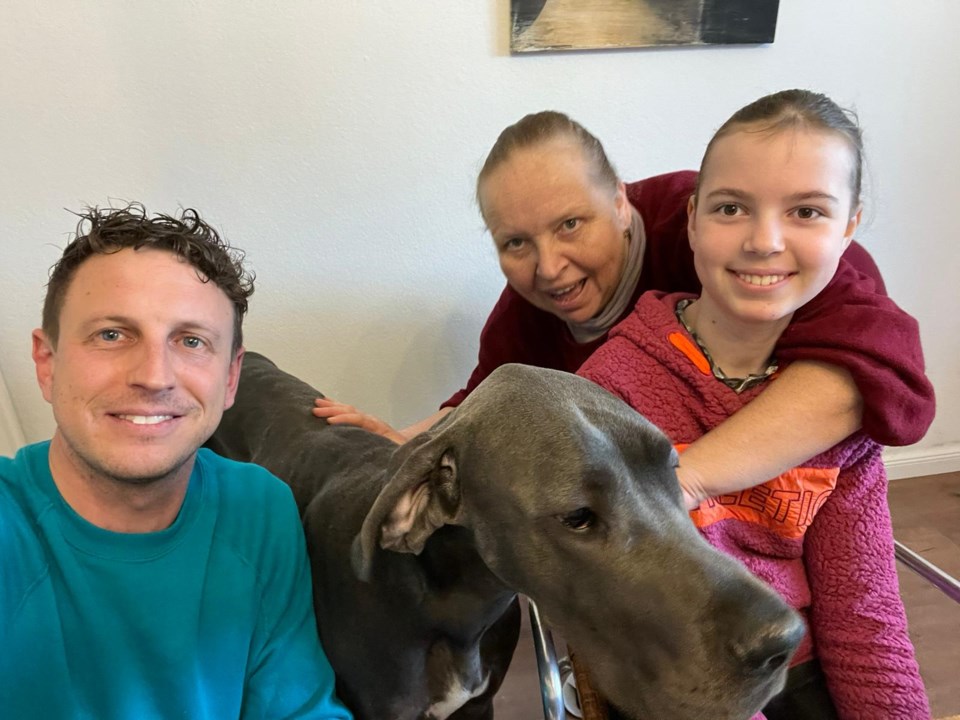 "I found a mother and daughter and spoke with them via speakerphone on my phone with someone who spoke Ukrainian," said Little. "They'd been travelling with a backpack, leaving husband and son behind, and living on cots, and then this random person shows up and says, 'I'll drive you to Vienna.' They'd never left Ukraine before."
The mother and daughter lived at Little's apartment for about a month, where they fell in love with his dog.
Little's Vienna apartment became a refugee centre. His pet became a therapy dog. And Little became an expert in sheltering and shuttling refugees displaced by the war.
"A lot of them, especially in the early days, they had been travelling for three days to get to the border and waited 12 hours to get across," said Little. "They're travelling with nothing and they're dehydrated."
Eventually, Little and others created a network of people with their own expertise. Using group chats, they found empty apartments for refugees to rent, found furniture and household items on local classified sites to fill the apartments with, and they found tradespeople willing to help create larger refugee centres.
During the first months of the war, Little worked 80 hours a week helping those displaced find homes. He focused efforts on support for LGBTQ+ refugees, who often had a harder time finding help. And he also helped build a refugee shelter for 1,000 people of colour in Budapest, and assisted in resettling Roma refugees.
Little emailed friends and family to let them know what he was doing and ask if they wanted to chip in. The money that came in more than covered the work he had already done, so he scaled up. He started renting buses and built an evacuation route that ran from western Ukraine all the way to Italy, with stops on the way.
Now, there are waves of people leaving and returning, depending on the conditions. For example, some people are being told to leave Kyiv if they have somewhere else to stay for the winter because of the attacks on the power grid and the potentially unstable electricity supply.
"There are periods where more people are going back than leaving, especially to Kyiv," said Little.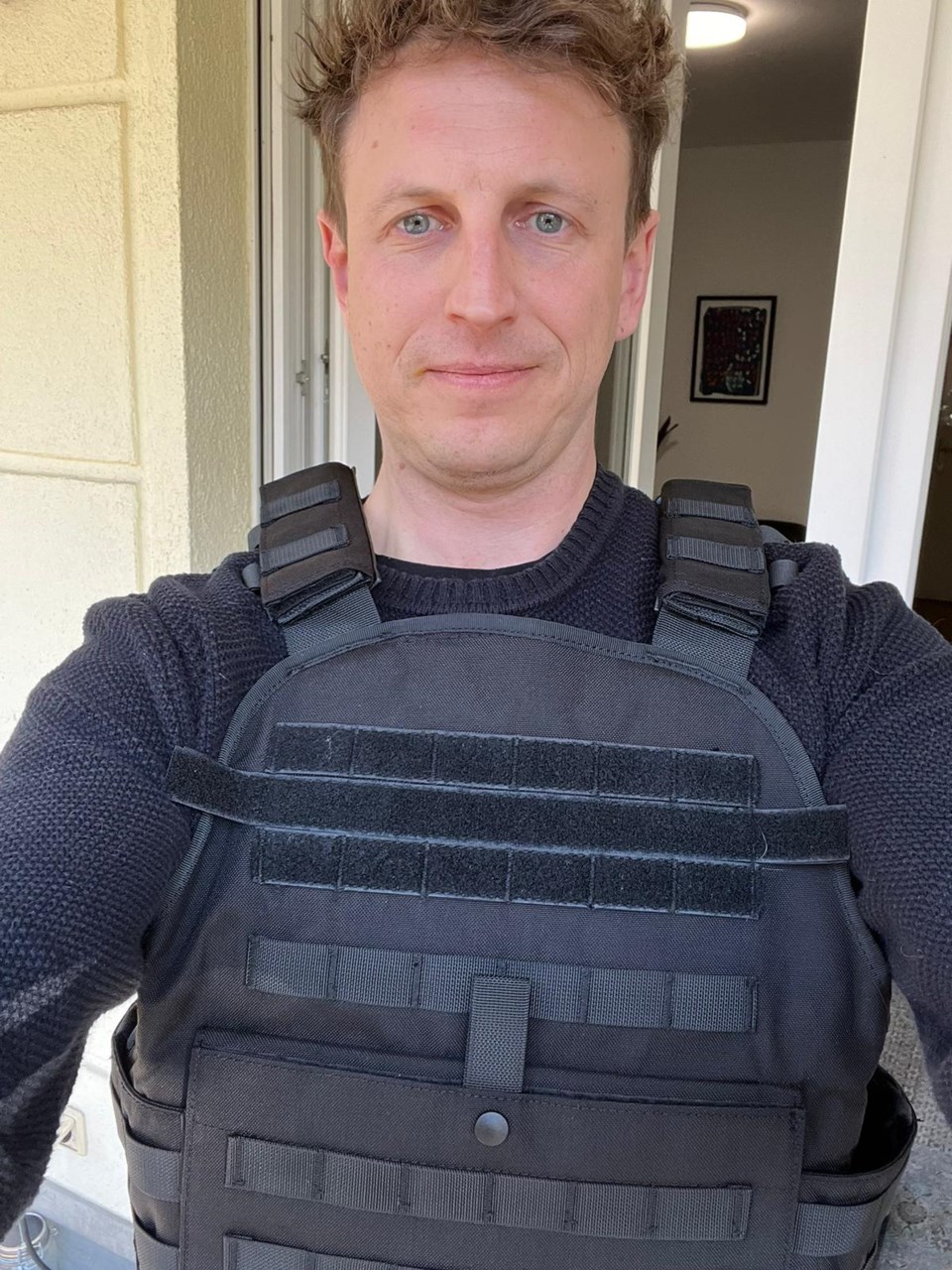 Those leaving the country are mostly women and children. Men between 18 and 60 years old are not permitted to leave. Most of the displacement, said Little, is happening within the country as people leave the eastern half of Ukraine to take refuge in the western towns and cities.
Little continues to travel into Ukraine with supplies, which are taken from a base in western Ukraine to the eastern side of the country. In his deliveries, he tries to remember the children displaced by the war as well.
"Toys are really important," said Little. "Children are massively affected by this war … and so I try never to forget that. It's not just about guns and butter; it's also about gummy bears."
Last Easter, he delivered toys, candy, and chocolate eggs to kids at a Red Cross shelter.
Little has also been working to supply the military in Ukraine by purchasing vans for transport, batteries for the drones, helmets, knee pads, walkie-talkies, first-aid kits, and thermal scopes. He finds he can get the best "bang for the buck" by doing most of the sourcing and delivery himself.
"I'm not associated with any organization," he said. "I'm doing this just as an individual person."
But it's not an individual effort. Little said the work depends on numerous volunteers with various expertise. They co-ordinate with Google Sheets and group chats.
"I'm not supplying weapons," said Little. "I tried … Basically everything I'm bringing is non-lethal and considered humanitarian."
The war continues, with Russia's Vladimir Putin and of the advisers close to him threatening nuclear war. Little's opinion is Putin would resort to using nuclear weapons.
"In this past year, 7,000 civilians have been killed in this war, of which probably 500, maybe more, were children," said Little. "Conservatively, 13,000 Ukrainian soldiers have been killed, there are 4.5 million refugees, five million internally displaced people in Ukraine, six million animals killed and 30 per cent of the country's forests destroyed or damaged … $700 billion in material damages, and that's increasing every day."
Little said Ukraine can win the war, but it needs a steady and consistent supply of ammunition and equipment.
"There's only one way to end this, and it's to win," he said.
Morale among Ukrainians, Little observed, is "sky-high."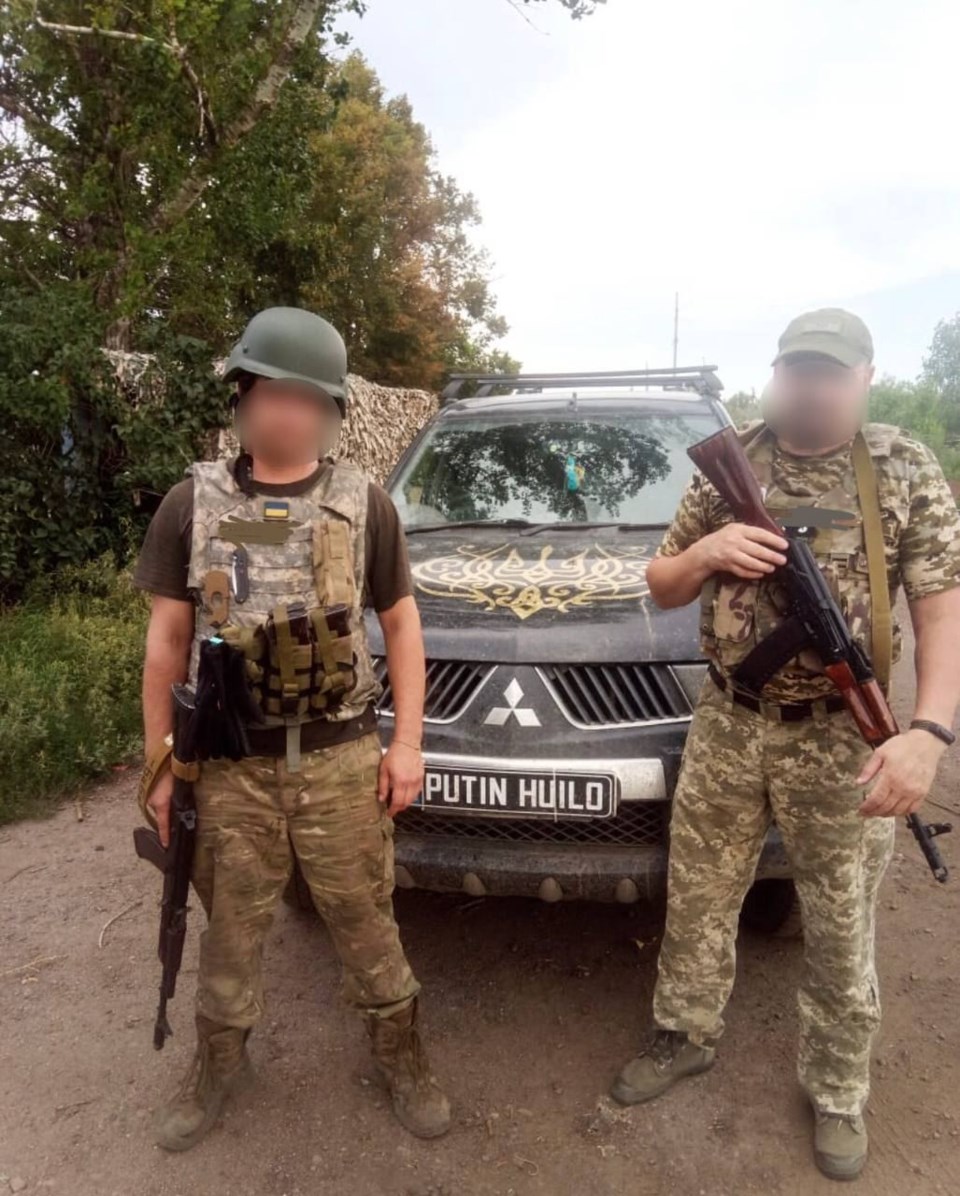 "It's the people, and it's also the difference between being the aggressor and defending your home," he said. "Every time (Russia) makes it worse … it calcifies their resolve."
He said there's an overwhelming showing of gratitude each time he delivers another load of supplies, and when the Ukrainian forces are having hard days, their spirits are lifted seeing the resources coming from Canada.
"It makes a huge difference," he said.
And speaking of morale and Ukrainian resolve, Little shared a photo of a pack of Ukrainian cigarettes with a surgeon-general-type warning message in white block letters over a black background that translates to "Quit now so you can live to see how Putin dies."
From Vienna, with support from Canada, Little is trying to keep the pressure up and the help coming. He's working with the 92nd Mechanized Brigade — famously some of Ukraine's best-trained troops — on a campaign called Hats for Helmets. Donations that come through the campaign are used to buy helmets for Ukrainian soldiers. As a thank-you, donors receive a camo hat.
"People can still help," said Little. "There's still so much to do."
You can learn more about the Hats for Helmets campaign via the website here.