Last week, I spent my Valentine's Day checking out what goes on behind the scenes at the Bradford Volunteer Firefighters' Association bi-weekly training sessions.
The sessions are held every other week at the fire hall on Melbourne Drive and include a theoretical and physical component.
What I didn't expect was to actually join in on the training. But, when in Rome.
How hard could it be? I thought.
Hard enough to embarrass me in front of a bunch of firefighters? Yes.
Upstairs an obstacle course was set up for the rescue training exercise. Suited up in 100 pounds worth of gear while blindfolded, the objective was to craw through a makeshift structure fire.
I went first (not blindfolded) and barely made it out, getting stuck almost immediately. I was hot and sweaty with the heavy air tank strapped on my back. Needless to say, I would make for a lousy firefighter.
For the rest of the training, I was more than happy to play the part of the victim, lying on the ground, waiting for the firefighters to rescue me. (A girl's Valentine's Day dream come true, right?)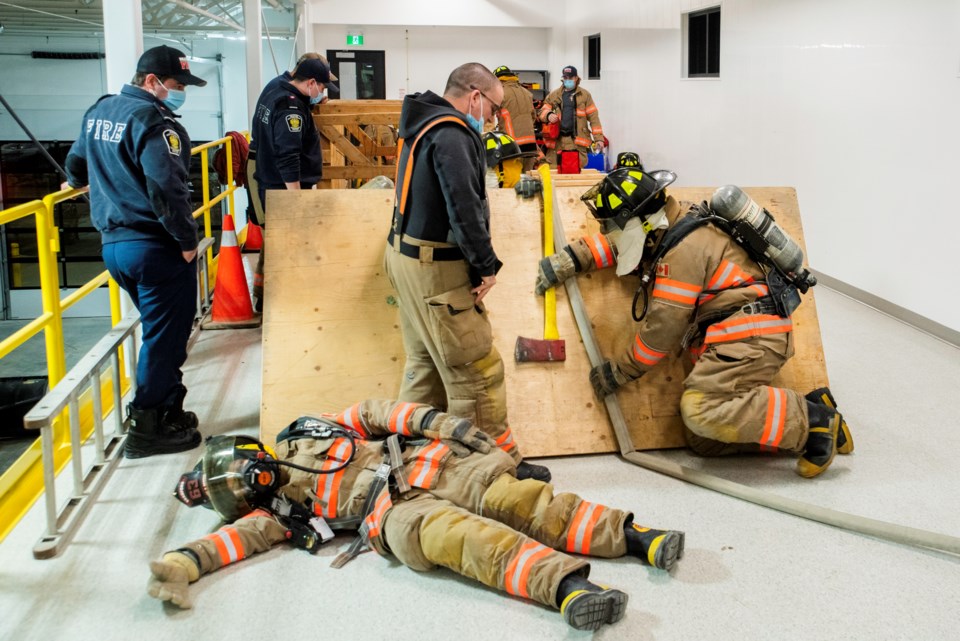 Before this story, I never really knew what being a volunteer firefighter meant. Why are they called volunteers? And what makes them different from the full-time career fire crew?
According to the Ontario Association of Fire Chiefs (OAFC), there are 30,966 firefighters in Ontario of which 18,772 are volunteers.
"Full time and volunteer (firefighters), we do the same work, the only difference is they (the full-timers) are at the station 24 hours a day, seven days a week," said Bradford Firefighters Association President Jeff Torcato.
There are a total of 35 volunteer firefighters in Bradford. Most of them have other full-time jobs and do the firefighting part-time, getting paid per call attended. Some use the experience as a stepping stone to a full-time firefighting position, while others enjoy the flexibility of the volunteering.
The term volunteer relates to their willingness to step up and help their community. All volunteers are required to live within the municipality they are serving. When an emergency strikes, it's all hands on deck, and they need to be close by to provide assistance and support.
Bradford Volunteer Firefighters are required to meet 25 per cent of all calls and 50 per cent of the bi-weekly training sessions in order to keep their position.
"Most,if not all of us, are well above the minimum," said Torcato.
In order to be considered for a position with the Association, candidates must pass a series of physical and certification tests, as well an interview with the town.
Torcato has been with the Association for over 10 years. He was elected as Vice President three years into his tenure and was promoted to president in 2020 following the retirement of Allan Grant, who held the position for 23 years.
"I got involved wanting to learn something new and help out the community," said Torcato. "The experiences on the ground throughout my time with Bradford Fire are my reward for the decision to become a volunteer."
Henry Kim has lived in Bradford his whole life and started volunteering four and a half years ago. He decided to apply as a way to not only keep physically active, but contribute to the community. He works a regular full-time job as a mason and does firefighting in his spare time.
"It's just a nice way to help out and do what I can," said Kim.
He says being part of the Association feels like a brotherhood.
"Everyone looks after each other," he said. "We are just a big family."
Like Kim, Weston Langford has been volunteering with the association for four and a half years. His brother joined the Association three years before him, and is now a full-time firefighter in Toronto. Langford's cousin is a full-time BWG firefighter.
Langford hopes to one day follow in his cousin's footsteps and become a full-time firefighter with BWG.
"It's awesome," said Langford. "I think it's rewarding, and they're a great group of guys."
The hotel fire at the 400 employment lands in spring 2021 was one of his most memorable experiences with the association.
"That was the most exciting because there was so much to do, and so many people involved," he said. "Every call is interesting."
When he is not attending fire calls, Langford works full-time as a farmer in the summer, and carpenter in the winter.
Chris Martinez, Vince Amato and Ryan Edgehill are some of the newest recruits, having joined last fall.
"It's been really welcoming," said Martinez. "It's something I have wanted to do for a while."
By day, Craig McLaughlin is a full-time teacher at Holy Trinity High School, but by night, he is a volunteer firefighter. He has been with the Association for 10 years.
McLaughlin used to be an avid runner. After nursing a knee injury, he was looking for a competitive outlet when he saw the call out for volunteer firefighters.
"I kind of made it a personal challenge (to try out)," he said.
He then started looking beyond the physical demands of the job, and what it truly meant to be a volunteer firefighter.
"It sounded like a really good thing to do, and lo and behold, I passed the test and interview and they hired me, and it's been great, it's been awesome," said McLaughlin.
Throughout the pandemic, McLaughlin has been responding to at least one call per day. Prior to that around 200-250 calls per year.
"I am on 24/7, that's what you sign up for," he said.
Charles Shaw works as a paramedic full time and has been a volunteer firefighter with the town for the past 12 years.
"I thought it would be interesting," he said. "Being a paramedic I have already been involved with volunteer and full-time fire departments and I just wanted to be able to contribute something to the community."
One of his most memorable moments on the job involved a good friend.
"I went to a fire in a home, residents were outside, and the guys were going in to deal with it," he recalled. "When I got out of the firetruck, the resident, a friend of mine, saw me and ran over to me crying. I hugged her. I didn't end up going in the structure, and it was not that serious, but seeing a familiar face brought her anxiety level down, and that is another way town residents help town residents. We all made a difference that night."
Shaw says being on the crew is a "great challenge", and enjoys the camaraderie.
"We'll do the training and then a bunch of the volunteers will go out afterwards for wings and talk about other things (besides work)," he said.
Shaw's wife is also a paramedic, so she understands the demands of being a frontline worker, often having to miss family dinners or bedtime with the kids.
The Association puts on numerous charity events throughout the year, including car washes and boot drives. The money raised goes back to a local person or family in need.
"So we can provide to the community where we can," said Shaw.
Most recently, the Association paid for the memorial stone at Veterans Park for the late Sapper Brian Collier of Bradford, and donated money to a local teen going through treatments at Sick Kids Hospital for a rare autoimmune disease.
As pandemic restrictions start to ease, The Bradford Volunteer Firefighters Association is looking forward to hosting more in-person community fundraisers.
Getting to see firsthand what the volunteers do, and listening to what they had to say about the job and why they enjoy doing it, was one of the most interesting experiences I have had so far while reporting for BradfordToday.
Thank you for all you do!