Bradford residents have plenty to say about the town's traffic.
More than 35 people came out to learn about and share their thoughts on the town's traffic mitigation strategy during the town's first public information and consultation (PIC) meeting at the BWG Leisure Centre on Wednesday night.
The strategy is intended to create two separate guides: a design guide to ensure all new roads include traffic calming from the outset, and a traffic calming guide to ensure traffic-calming measures are added to existing streets using a consistent process, based on measurable data.
Display boards set up in the centre's front hall explained the strategy's goal, scope, various methods of traffic calming and the conditions for their implementation and how to provide feedback.
There was an interactive map on which residents could add different coloured stickers to show the places in town where they see speeding, high traffic volumes, heavy vehicles, vulnerable road users and safe driving.
Members of town staff and representatives from he consultant, Arcadis IBI Group, were also on hand to listen to what residents had to say and explain the process.
In the centre of the display area was a table with pencils and comment sheets on which attendees could provide their opinions and feedback before inserting the sheets into a comment box, for staff and the consultant to review later.
One such resident was Lindsay Kuhne who was happy to attend the meeting.
"I think it's great that they have this information here for the public to come look at and see how they're going to prepare a plan for Bradford. All of these ideas are really great," she said, adding she was already looking forward to seeing what is presented at the next meeting.
Right now, Kuhne's biggest traffic worries are the amount of drivers she sees speeding and running stop signs, especially along Maple Grove Avenue and Collings Avenue.
"I live right at a three-way stop and people drive through those stop signs constantly. I walk my son to school every day and watch people not stop at the stop signs," she said.
To help change that, Kuhne said she would like to see more speed bumps in residential areas and rumble strips to let drivers know when they're getting close to a school.
Another resident happy to provide feed back was Sue deWinter.
"I love this approach. I think it's a great strategy to include everyone in the decisions to improve safety in Bradford," she said.
deWinter and her neighbours previously worked together to ask the town to pave Line 8, after which she saw a significant increase in speeding, so the group worked with South Simcoe Police Service to send letters to those speeding drivers.
"Collectively we approach the town and we get things done. ... I really find the town responsive. You have to know who to contact, but it's very easy. We have a great website, the town of Bradford. I think just knowing your resources will help get things done," she said.
Furqan Abbassi appreciated the opportunity to have his opinions heard, and felt one issue that may be overlooked is ways for people walking or cycling, especially children, to navigate safely without worrying about danger from motor vehicle traffic.
"I find the traffic flow is decent, but when the summer is here, the issue is the kids crossing the street, and we don't want to wait for a mistake, an accident," he said in reference to the newer developments along Simcoe Road and the children trying to cross the street to access Green Valley Park.
Rather than traffic lights or stop signs that would back up traffic all the time, Abbassi is hoping to see a pedestrian-activated crossing to stop traffic only when needed and make it safe for people to cross.
"Overall, I'm happy with what the city is doing, but it still needs improvement and the only way they're going to find out is if we bring up the issues," he said.
Ward 6 Coun. Nickolas Harper, a member of the Community and Traffic Safety Advisory Committee, said he was happy to see people attend the meeting.
"I'm glad I was able to come and help steer and basically explain or talk about some of the amazing things the community traffic safety plan is doing," he said.
Harper feels confident the consultant will be able to take the public input and use it towards improving the town in a way that considers many points of view and provides a new process for scoring different types of traffic calming in different situations.
"It's a plan to incorporate everyone and everything ... and not just use a speed hump here and a bollard there. It will actually show different ways of designing and planning (streets). I think it will open people's eyes to the way Bradford is forming," he said.
As children, many people used to feel safe playing in front yards and even on residential streets, Harper recalled, and he hopes the strategy can help restore some of that.
"A town that's so wonderful like this, has all the potential to bring those elements of safety to your kids on your street. ... I think this is one step forward for that," he said.
Cheryl Fryer has been a resident of the town since 1988 and felt the strategy was long overdue to help deal with traffic issues, especially along Northgate Drive.
"Volume on that road is the key concern. We've been asking for speed bumps for years and it seems to fall on deaf ears. They gave us bollards, and it hasn't impacted traffic. They just drive over them.
"Speed isn't the primary concern, it's traffic," she said.
Fryer wants to see the strategy address traffic volume as one of its main goals.
She estimates the street sees more than 4,000 vehicle trips per day and thinks adding speed humps or speed cushions would encourage some people to stop using the street as an alternative to Holland Street West or Line 8.
Along with submitting her comments that evening, Fryer is also planning to encourage her friends and neighbours to provide their comments online.
"This is a town that works on the squeaky-wheel theory, so let's just be squeaky," she said.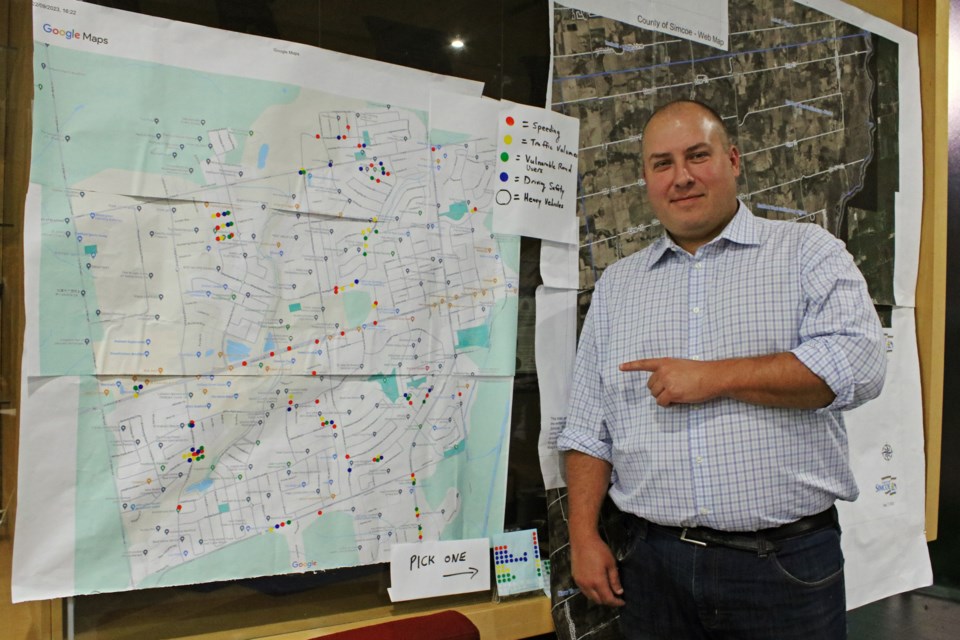 Paul Dubniak, transportation technologist for the town, was present to speak with residents and felt good about the turn out.
"I thought it was spectacular, especially as this is, at least for transportation, one of our first big meetings after the pandemic," he said, adding that he's looking forward to going through all of the written comments in the stuffed comment box.
One of the biggest requests he heard was for speed humps, but Dubniak is hoping the strategy will help show people that there other options for situations where speed humps might not be appropriate.
"Maybe there's opportunities to constrict the roadway, or maybe we can do a curb-radius reduction, so rather than cars flying around the corner, if you square it off more, you really make them slow down to make that turn," he said.
One resident told Dubniak she wanted an all-way stop sign to address speeding, but the more Dubniak spoke with the resident the more he realized her concern with speed had more to do with allowing pedestrians to safely cross an intersection, and suggested the town could consider different crossing treatments.
The ability to look at a list of solutions and follow a flow chart of implementation is something Dubniak wants to be open and available to all residents to help inform which steps should be taken and where.
"I want to able to say 'Here, you can follow the steps with me and we can go through it together.' There's roadways where things are appropriate and roadways where things aren't. On an 80-km/h road, you're not throwing down speed bumps." he said.
The main roads in town facing the most traffic issues seem to be the collectors, according to Dubniak, who used Northgate Drive as an example.
While he didn't have the exact numbers on hand, Dubniak estimated that because there are several smaller streets and crescents that only connect to Northgate Drive, there could be 420 homes or more from which the residents have no choice but to drive on at least some portion of Northgate Drive just to get out of the neighbourhood.
If the average person makes one trip per day where they leave and return, and the average home has 2.6 vehicles, then there could be almost 2,200 vehicle trips along Northgate Drive everyday, just out of necessity.
With that sort of volume, speed frequently becomes an issue, but it may not be as widespread as people think, said Dubniak.
"The hard thing is, the vast majority of people in town aren't doing anything wrong. We do find a lot of the time, it's a specific group of people in a neighbourhood that is a constant issue. ... We're finding with the data that it's people who don't live too far away," he said.
Looking towards the second PIC meeting, Dubniak is hoping to use a similar format to show people some draft examples of the specific measures and processes for dealing with traffic issues, so they can see for themselves what metrics might justify a new all-way stop or speed humps.
"I like this conversation and how it's going. It's a bit easier to go around and hear people's questions or concerns," he said, adding that people will then be able to recommend tweaks or changes to those drafts.
In the meantime, anyone who missed the first meeting and would like to provide feedback on the strategy can visit townofbwg.com/tms, or contact Dubniak at 905-775-5369, ext. 5206, or [email protected], or reach out to Hugo Chan, consultant project manager, Arcadis IBI Group at 905-763-2322, ext. 63421 or [email protected].