A former Simcoe County resident, who was born and raised in the area, has been named as a finalist for the 2023 CBC Nonfiction Prize.
Kelly S. Thompson, who was born in Alliston and grew up on CFB Borden, just west of Barrie, is one of five Canadian writers who have been shortlisted for this year's award. She has received the nomination for her memoir, The Edge of Change.
The story was inspired by her older sister, who died in 2019 following a short battle with cancer, Thompson explained from her home in Colorado.
"The essay that is now in the CBC piece … was actually part of the book (Still, I Cannot Save You) originally. It was the first instance where I recognized my sister would do anything to be loved (and) it was sort of the first instance where I recognized that I couldn't protect her from that," Thompson said from Colorado Springs.
Her sister, Meghan, was an addict for many years.
"It kind of went to the title of my book — Still, I Cannot Save You. It's that hopeless feeling that comes with not being able to protect someone you love," Thompson said.
Before she died, Thompson said her sister asked her to write the story in the hopes that it might one day help others.
"I had the contract for my first book while she was dying, and we knew that she wasn't going to get to see it published," Thompson added. "She said, 'I want you to write about us and maybe it will help someone.'"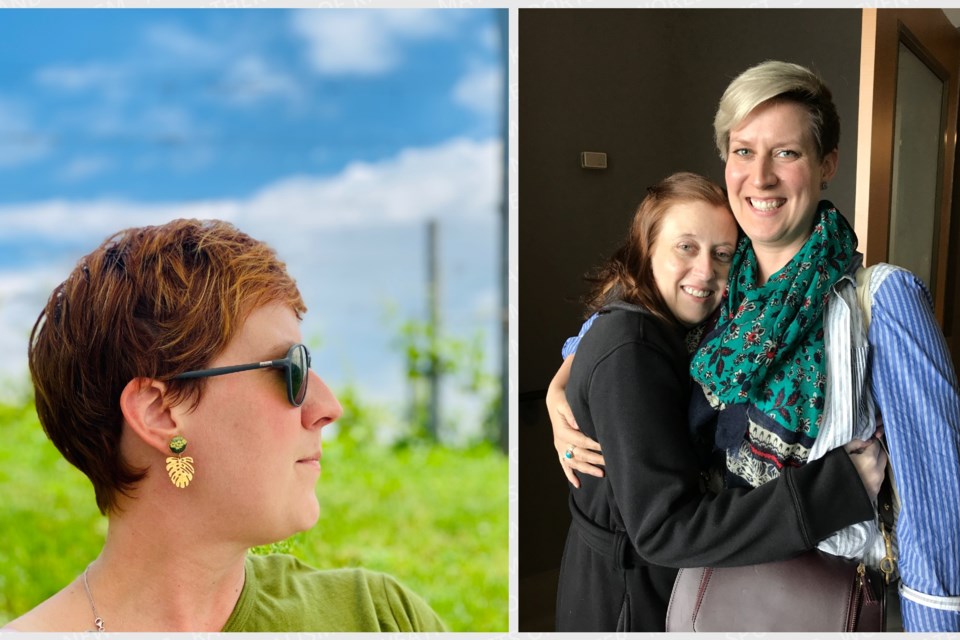 Touring with her first book and meeting other women, non-binary people and men who have been victims of sexual harassment, as well as seeing people who have struggled with addiction, abuse or powerlessness, Thompson said she has witnessed first hand the capacity for change when people have the opportunity to "sit with true stories."
"I teach that, too. I am a mentor at the University of King's College and when they're struggling about how to write about this really hard thing, I think there is someone who needs this book," she said.
"I think we are healed by stories (and) we are healed by art. I like being a little, small piece of that."
Thompson admitted she may not have been able to keep her cool when she got the news she'd been shortlisted for the award.
"I did a lot of screaming and hopping up and down in the middle of my living room alone," she said with a laugh. "I have entered this contest every year for 13 years. I made the long list once two years ago and this is my first time making the short list.
"It's a wonderful thing, because I love the arbitrary nature of judging this kind of thing. You can look at craft, and you can see where a writer knows how to use the tools that are available to them … but also, I have entered this exact same story four other times," Thompson added. "It's the same and sometimes it's just taste, or sometimes it's just a few phrases that you've changed over time."
Thompson's writing has won awards in the past, including being long-listed for the 2021 CBC Nonfiction Prize for her story Dear CAF. Her essays, fiction and poetry have also appeared in Chatelaine, the Toronto Star and Macleans. Her first memoir, Girls Need Not Apply, was named a Top 100 Book of 2019 by the Globe and Mail. Her second memoir, Still, I Cannot Save You, was released last spring.
As exciting as it would be to win this award, Thompson admits she hasn't really thought of that as a reality
"I am actually a really great judge. The last few years, I have been able to pick the winner every year for the last five years. I don't think it's me — and that's not to be self-deprecating, but it's just really loving these two other stories," she said.
Just getting this far is a "such a huge thing," Thompson admitted, adding over her career she's learned to measure her success by her own yardstick.
"It can be otherwise really daunting to attach yourself to that kind of hope," she said. "At this point, it got published on CBC and other people are reading it and maybe getting a little bit of comfort out of it … and that's the prize."
In addition to recently completing work on a new fiction thriller, Thompson has started volunteering her time to teach a writing program at a detention centre for teens.
"I really believe in the power that comes with having a voice," she said. "I am really excited to hopefully give that to other people."
The grand prize winner, which will be announced on Thursday, will receive $6,000 from the Canada Council for the Arts, have their work published on CBC Books and will attend a two-week writing residency at Artscape Gibraltar Point.
The four finalists will each receive $1,000 from the Canada Council for the Arts and also have their work published on CBC Books.