Bradford Mayor James Leduc is speaking out against recent accusations from the union representing library workers.
The library workers and supporters once again rallied outside of council before participating in the open forum during the regular meeting of council Tuesday night.
This was the third time workers at the Bradford West Gwillimbury Library have attended open forum since they went on strike on July 21 when negotiations over their first collective agreement came to a head.
Katherine Grzejszczak, president of Canadian Union of Public Employees (CUPE) Local 905, which is representing the 36 striking library workers, expressed concerns about the employer's announcement on Aug. 25 that they had applied to the Ontario Labour Relations Board (OLRB) for binding arbitration.
"We are of the understanding that they would only be able to get a two-year collective agreement out of that process, if the board rules in the employer's favour in the first place," she said prior to the rally, adding that her understanding was that the imposed collective agreement would be retroactive to September 2021, when the group first unionized.
"That means the contract would be expired right now, September 2023, and so we would be right back into bargaining dealing with the exact same issues."
The mayor disputed that claim during an interview after the council meeting.
"Well that's totally untrue. That's what arbitration is all about, talking about terms and length and everything. We'll put our package together, they'll put theirs," he said.
The OLRB could take as many as 30 business days to make a decision about the employer's application, meaning both parties could be waiting until Friday, Oct. 6.
When it comes to the length of the term arbitrators can impose on a first collective agreement and whether or not it can be retroactive, the Ontario Labour Relations Act stipulates in Sec. 43(19): "A first collective agreement settled under this section is effective for a period of two years from the date on which it is settled and it may provide that any of the terms of the agreement, except its term of operation, shall be retroactive to the day that the Board may fix, but not earlier than the day on which notice was given under section 16."
Leduc also noted the union has objected to arbitration.
"We're OK with binding arbitration. We don't have a problem with that. We put our offer out there. If they think their offer is that good, the $1.35, say 'yes' to arbitration. What are you waiting for? You're just keeping your people on strike for nothing," he said.
Despite some progress in other areas, wages remain the sticking point of negotiations as the union is requesting a wage increase of $1.35 per hour per year for two years for library workers.
Both during the rally and during open forum, Grzejszczak provided a breakdown of the that expense, and based on information the library submitted to the labour board, she said the union's request would cost about $164,000 over two years, which would be $84,000 in excess of the $80,000 the library had budgeted for wage increases, or an additional $42,000 per year.
"The library has a $3-million-a-year budget. To try to wrap your head around the community not having access to library services for 47 days over $42,000 per year in a $3-million budget, it just doesn't make any sense," she said.
During open forum, the Local 905 president claimed the employer has already saved about $23,000 per week in unpaid wages while workers have been on strike, which adds up to about $161,000 by Wednesday, Sept. 9, the end of which completes seven full weeks of the strike.
"Like I've said from the beginning, it's not about the money; the money has been there since Day 1 for this wage increase. This strike is about a council and a mayor that has made up their mind that they will do whatever it takes to ensure that these workers do not get a fair wage increase," she said during the rally.
In the interview after the meeting, Leduc disputed that claim as well, and noted the union's request would have greater financial impacts for the town beyond requiring a 2.6-per-cent increase to the library tax rate in the first year and 5.2-per-cent increase over two years, as previously stated in a release from Matthew Corbett, the library's CEO.
"When we rotate that into the bigger budget when it comes back to council, we have 450 employees that accepted a three-per-cent raise. If we give out $1.35 here, then we need to go back to the 450 employees in Bradford and give them the same money, because they deserve the same. We treat everyone equally here," Leduc said.
The mayor estimated that would add $640,000 to the town's budget just in the first year, and cause a two per cent increase to the town's overall tax levy.
"Think about what that does over time, how that continually amortizes over time. It's a huge financial impact to us. ... Like I've said to many people, I don't have a money tree in the backyard. We go to the taxpayer; the taxpayer pays the bill," he said.
The mayor also took time to clarify the most recent deal offered to library workers.
"Out of 36 employees, we addressed 21 of them that were in the lower wage scale, because that was CUPE's argument at the table the whole time — that the lower wage scale people weren't being paid enough. We took those people and we said 'you're right,' and we elevated them," he said.
As a result, Leduc noted that the average increase for those 21 workers would be 5.9 per cent and 4.6 per cent for library workers overall, and would ensure that all non-student positions will have wages that meet or exceed the Simcoe County living wage of $20.70 per hour.
That figure is $2.40 less than the union's target of the GTA living wage, which they define as $23.10 per hour.
The mayor also noted the offer included an adjustment of all student rates to $16.55, retroactively effective to Jan. 1, 2023, but Grzejszczak previously clarified that none of the workers are currently earning the Ontario student minimum wage of $14.60.
Still, the retroactive increase would mean that the six members the union identified as earning the Ontario adult minimum wage of $15.50, would see nine months worth of the $1.05-per-hour increase before it is legislated to take effect on Oct. 1.
Compared to the contracts negotiated at other libraries including Ajax, Pickering and Georgina for periods ranging from 2020-2024, the mayor felt the deal offered to Bradford's library workers was more than fair.
"Those deals are up to 2024 with two per cent, two per cent, 1.85 per cent, 1.85 per cent. We've offered three per cent in those years. You want to see inflation? That's inflation. We dealt with it," he said.
Since before the strike, the Bradford library has been offering increases of three per cent for 2023, three per cent for 2024, 2.5 per cent for 2025 and 2.5 per cent for 2026, and the most recent offer also extended that to "red circled" employees, for the life of the collective agreement.
Those employees previously had their wages frozen, meaning they were not eligible for increases previously proposed by the administration; they are also not eligible for full-time hours or health benefits.
"This offer is the best offer in the province. You can't get any better. Everybody they said was underpaid has been looked after, including red circled people. We've looked after everybody, and we want a four-year deal," the mayor said.
He added the town also offered to include "me too" clause in the last two years of the four-year offer, meaning that if another union in town is able to negotiate an increase of more than 2.5 per cent, the library workers would automatically qualify for it as well.
"This is a great offer and if they wanted to get things done, all they have to do is agree to arbitration and come to the table and everybody gets back to work and the arbitrator sits there and rules on both parties and says who has the best package," he said.
While the mayor had previously been cautious to discuss the specifics of negotiations in order to maintain good-faith bargaining, he said the situation has now reached a point where he wanted the community to have more understanding of the town's side of the issue.
Ward 4 Coun. and library board member Joseph Giordano agreed.
"As good stewards, and obviously as the employer, we have to hold ourselves to a higher standard, and it's unfair when there's misinformation or disinformation or alternative information out there. ... Unfortunately, we haven't had the luxury of being able to tell our story constantly. I think the mayor did a great job of articulating the main points," he said.
In the meantime, members of the public continue to express support for the library workers.
Kathryn Richardson works at the Newmarket Public Library, where she is also the unit chair, and came to the rally to show her support.
"I do work at the Newmarket Public Library and a lot of Bradford residents have come to our library to use the computers. I've talked to a number of them, because I'm just like that, and a lot of them are willing to pay higher taxes to give you people a raise. Don't forget that, the community is right behind you," she said.
Natasha Philpott is the marketing and communications co-ordinator at the library, and former editor of BradfordToday, participated in the open forum to express her frustration with the prolonged strike.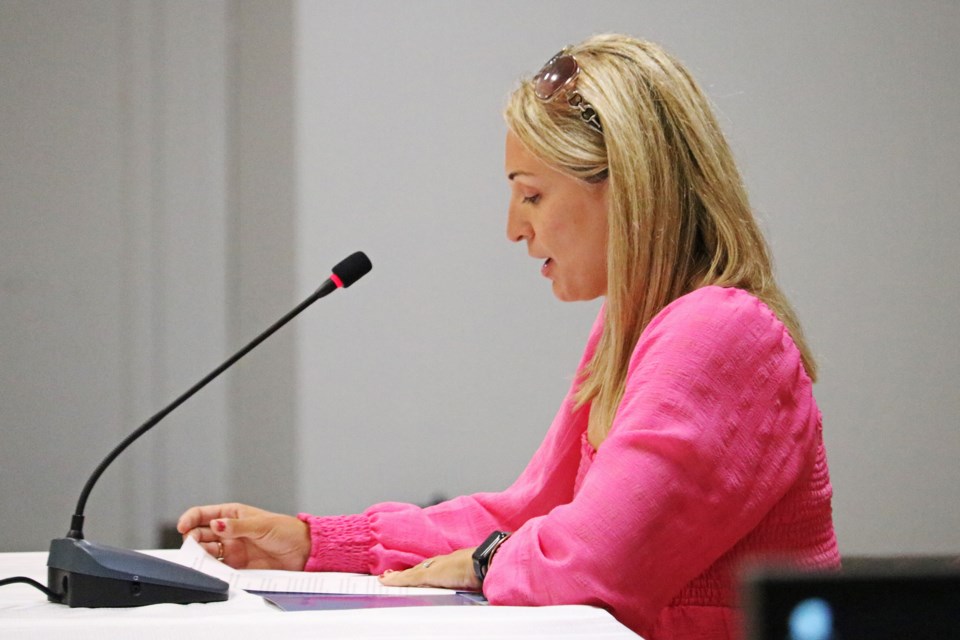 "I recall numerous instances during my time at the local paper interviewing many of you. I witnessed your unwavering dedication to our community — a passion that appeared to have once burned brightly. Today, I find myself questioning the presence of that very spirit," she said.
Philpott also presented the mayor with an additional 995 signatures from a petition in support of workers, which now totals more than 2,000 signatures.
"While I acknowledge that not all of you utilize the library services personally, it remains an irreplaceable cornerstone and a cherished resource for the majority. Regrettably, this vital lifeline has been severed and I ask: Is this the legacy you want to leave behind?" she said.
Karen Wilson also spoke to council during open forum, and asked them to consider an introspective approach.
"Tonight, I would like to turn to you and briefly examine the angst and frustration some of you all might be experiencing. ... I would like you to examine your hearts right now and search for your motives for not giving the library staff what they're asking for," said Wilson.
"I implore you to do unto others as you would have them do unto you. Wouldn't the whole world be a better and kinder place if we all did so? Wisdom is doing now, that which you will be glad you did later," she said.
Tuesday marked Day 47 of the strike, which makes it one of the longest library worker strikes in Ontario history, with only Essex County's 231-day strike, which ended in February 2017, being longer, according to the union.
While the collective agreement would be overseen by the town's library board, the funding for the board and approval of board decisions comes from council.
Library board members include Licinio Miguelo, chair; Ward 1 Coun. Cheraldean Duhaney, vice chair; Ward 4 Coun. Joseph Giordano; Ferguson Mobbs; Jen Turner and Diana Sheeler.
Dillon McDowell was also originally a member of the board for the 2022-2026 term until his recent resignation at the end of August.