This article has been modified since it was originally published.
Some awkward technicalities and grey areas have emerged out of Bradford's library strike and Ward 4 Coun. Joesph Giordano has been caught up in two of them, and both times requested the assistance of police.
The most recent incident took place early Saturday evening as library workers — who have been on strike since July 21 when negotiations over their first collective agreement broke down — and union members continued their recent initiative of canvassing local neighbourhoods to speak with residents about the strike and their concerns.
According to Giordano, there was some confusion about access to the sidewalk and public roadway, which had been closed off between Empire Drive and Sundragon Trail for the Summerlyn Retro Street Party.
The party and closure was permitted by the town, but came with a capacity limit on the event and the party required those attending to purchase tickets in advance — all of which had already been sold out.
The presence of the library workers without tickets led to capacity issues, according to Giordano.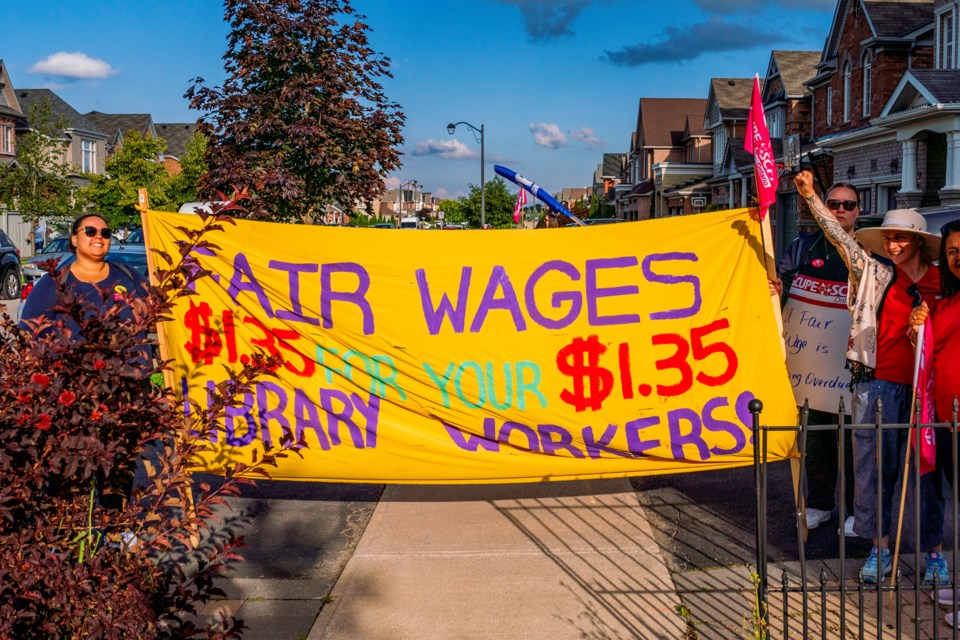 "We're turning away people who don't have tickets because we're at capacity ... I was asking the police to say 'Can you help us?'" he said.
Katherine Grzejszczak, president of CUPE Local 905, which is representing the 36 striking library workers, explained members were present to continue their efforts walking door to door and to speak about the strike with the public gathered during the event.
"Nobody explained anything to us about concerns of capacity issues," she said, adding union members were not requested to present admission tickets and the police took no issue with the actions of members and did not ask them to leave or to move.
While she understood that the paved portion of the road had been closed to vehicle traffic, Grzejszczak said members walked into the area using the public sidewalk which was not closed at the time.
According to Giordano, a neighbour called him and asked him to call police after picketers surrounded the neighbour's house during the street party.
Giordano, who was co-MC of the party and also sits on the town's library board, thinks picketers looking for an audience with him may have been confused after a neighbour allowed Giordano to park his car in their driveway.
"Did I call personally? Yeah. When my residents call me, I help them. ... The police were only here just to protect the private properties. We didn't want them going on private properties because the homeowners called," he said.
Grzejszczak said she did not see any members gathering on private properties and police did not issue any warning about being on private property.
In an effort to keep things friendly, the councillor said he waved a few picketers over and invited them to join in the festivities, but also noted that the group who organized the party, The Street Party Collective, received "a lot" of complaints about picketers bothering party attendees.
Meanwhile Grzejszczak said the response she experienced from the public was positive.
"People are supportive of the library workers. They're supportive of the wage increase that we're seeking. They're really disappointed that the library is still closed. They're struggling to understand why that is the case after four weeks of this strike over such a small amount of money," she said.
South Simcoe Police Services confirmed officers were dispatched at about 5 p.m. on Saturday, Aug. 12, after they received a call about an unwanted person at an event near Blue Dasher Boulevard and Langford Boulevard.
Once on scene, police say they spoke with the involved parties and the event proceeded without incident.
Giordano also explained the organizers had hired two officers for security but they weren't scheduled to begin at the event until 7 p.m.
Despite being in a public place, the union had anticipated police could be involved.
"We were not surprised. We went in fully expecting he would call the police on us, based on the previous interaction," she said.
That interaction happened on Saturday July 22, just the second day of the strike, while Giordano was attending the Run for Chiari and Bradford Farmers' Market, both of which took place at and around the library, with the market sharing the library parking lot with the picket at the time.
While he declined to provide specifics of the incident based on advice from legal counsel, Giordano was able to confirm that he had parked his car in the public lot before taking his daughter to the run and then returning to do his regular shopping at the market.
"I don't want to talk about it, because it involves my daughter, and to be honest with you, my family is more important than anything else and I'm not putting my family at risk anymore," he said, adding that a member of the union approached him during the street party to apologize for what happened.
Grzejszczak explained picketers were handing out leaflets to people as they entered and exited the farmers' market and attempted to speak with Giordano when they noticed him returning to his car, which had been parked about three spots over from the picketers' tent.
As the convertible had its top down, Giordano explained he wanted to park close to the market, both so the car would be in a highly visible place to protect it, but also to make it easier to load up on produce at the market.
"It was no disrespect to the union. I'm there to support the farmers' market and the charity. I assumed it's a public parking lot owned by the town and there's an event happening in that parking lot, so it would be OK to go to that parking lot," he said.
When the councillor declined to speak with picketers or listen to their concerns, Grzejszczak said some picketers decided to stand directly in front of Giordano's car in an attempt to prevent him from driving away from them.
"He told us he was phoning the police. He said we were discriminating against him because we were letting out all the other vehicles and I told him that being a councillor is not grounds for discrimination under the Human Rights Code," she said.
The union leader said she also pointed out to Giordano that as a councillor who also sits on the library board, he has the ability to help put forward a deal to resolve the labour dispute.
After about five minutes of being unable to convince the councillor to engage in conversation, Grzejszczak said the picketers moved aside and let Giordano leave.
South Simcoe Police Services confirmed officers were dispatched at about 12:40 p.m. on Saturday, July 22, after they received a call about the strike near Holland Street West and West Park Avenue.
Once on scene, police say they learned the complainant had left and they cleared without incident.
When asked if she saw any parallels between the ambiguity of a councillor and library board member attending an event so close to the picket line compared to the ambiguity of union members canvassing so close to the street party, Grzejszczak highlighted the differences in the situations.
"There's no picket at Coun. Giordano's house. Coun. Giordano hasn't been out on strike and out of his workplace for the last four weeks. Coun. Giordano's children haven't had their health benefits cut off, because their parents are out on strike," she explained.
"Coun. Giordano's children don't have to come to a picket line in the middle of summer heat, because Coun. Giordano can't afford to put them into daycare. We are in a very different situation than Coun. Giordano," she said, adding that perceptions of what is considered acceptable will be different for those who have been on strike for more than three weeks.
On Friday, July 28, the town announced that the market and the Back Alley Cruisers car show would both move north to the BWG Leisure Centre parking lot to prevent further issues, and that meetings of council would move from their regular location in the library to the Bradford and District Memorial Centre.
Giordano agreed the move was the right decision and extended his sympathy to striking workers.
"My mother was a library technician. She put herself through school while raising three boys. I've been using the library since I was a kid, so I'm not against libraries at all and I see the value, but at the end of the day I also report to 40-something-thousand taxpayers," he said.
The councillor acknowledged that residents have been asking for more answers, but explained that best practices dictate that labour relations should not be discussed publicly, and should instead be handled at the negotiating table.
"I would love to sit down and have a popsicle or a coffee and talk to them. I used to go to the library all the time and I'd go out of my way to say 'hi' to everybody and talk to them, but at this point, I can't say anything," he said.
In the meantime, he encouraged the union to return to bargaining and remained hopeful that the negotiating team could find a deal that would make everyone happy.
"The tools are there for a deal to get done. As a councillor, as a board member, we're just waiting for that opportunity," he said.
On Friday, Mayor James Leduc also provided clarification about why the town and council have been hesitant to release more details.
"It's a delicate balancing act. We've got employees who are on strike and we want to make sure we protect them as best we can. That is why we're leaning on the library to do most of the messaging," he said.
While the mayor is familiar with the efforts of unions to publicly advocate for their members, he explained council and the town are trying to be careful about how they respond.
"One day these employees are going to come back to work and we want to make sure we can still have a good relationship with them," he said.
In the meantime, Leduc reiterated the suggestion he has been making for weeks, that union members return to the bargaining table.
While the collective agreement would be overseen by the town's library board, the funding for the board and approval of board decisions comes from council.
Library Board members include Licinio Miguelo, chair; Ward 1 Coun. Cheraldean Duhaney, vice chair; Ward 4 Coun. Joseph Giordano; Ferguson Mobbs; Jen Turner; Diana Sheeler and Dillon McDowell.