The detective overseeing the Ontario Provincial Police investigation into the abduction of a 37-year-old woman from a Wasaga Beach home one year ago is both hopeful and afraid for her.
"I would always say, and it has been since Day 1, my biggest hope is that she is alive, my greatest fear is that she is not," said OPP Det. Insp. Martin Graham.
The case of Elnaz Hajtamiri is disturbing, even for the veteran police officer, a member of the force for 32 years.
"An adult, vulnerable female victim has a house forcibly entered into in an evening by three males, dressed in police gear, pretending to be police, exhibit violence towards her and forcibly remove her from the house. And she's never seen again," recounted Graham.
"That would be, I think, the definition of disturbing. We all rightly expect where we reside and live to be a haven of safety for us, and certainly how could any of us expect to be forcibly removed by three disguised males in police gear? This is very disturbing," he added.
Graham said he's never been involved in or aware of a case similar to Hajtamiri's.
On the evening of Jan. 12, 2022, the 37-year-old woman was abducted by three men who were impersonating police officers. They charged into the Wasaga Beach home where she was staying, grabbed her, dragged her outside and put her in a white SUV — likely a Lexus RX — and then drove away with her in the back seat.
Hajtamiri, whose home was in Richmond Hill, was staying with relatives in Wasaga Beach for her safety.
Three weeks prior to the abduction, Hajtamiri was attacked in a parking garage at her King William Crescent home in Richmond Hill. She was beaten over the head with a frying pan before her attackers fled in a stolen vehicle, which was later recovered. Hajtamiri was taken to hospital and received stitches for a gash on her forehead.
"That she would be attacked in her underground car-park, and then (three) weeks later is kidnapped from another location ... yes, that is disturbing," said Graham.
Hajtamiri's family has said there were multiple GPS tracking devices found on her vehicle prior to the attack in the parking garage. Police have not confirmed or denied there were trackers on the vehicle.
"If they were there, they would definitely form part of the investigation and, as such, in order to protect that integrity ... we wouldn't be able to speak to it anyway," said Graham.
Since Hajtamiri was abducted, police say she has not been seen or heard from. There have been no ransom demands.
Graham said there are "numerous" investigative avenues following multiple potential motives for the crimes against Hajtamiri.
"Motives are explored and investigated and they form part of the investigation, and, as such, I can't speak to them in order to protect the integrity of the investigation," said Graham. "But I certainly can say that there is no evidence that Elnaz Hajtamiri was involved in any form of criminal activity."
Hajtamiri's ex-boyfriend, Mohamad Lilo, 35, was charged in both cases in July. Police have said he faces an abduction charge in Hajtamiri's January disappearance, and attempted murder and attempted abduction charges in the December parking lot incident. Lilo is awaiting trial for the charges.
Graham said Lilo's case is before the courts and subject to a publication ban, but did confirm Lilo had a shipping container business and he was responsible for movement of the containers from Canada to "all parts of the world."
York Regional Police have also charged two other men, Riyasat Singh, Harshdeep Binner in the December case.
Singh and Binner both were charged with attempted murder and attempted kidnapping. Singh pleaded guilty to aggravated assault and was sentenced to time served. He was deported as a result of an existing federal order.
Binner is awaiting trial to face the charges.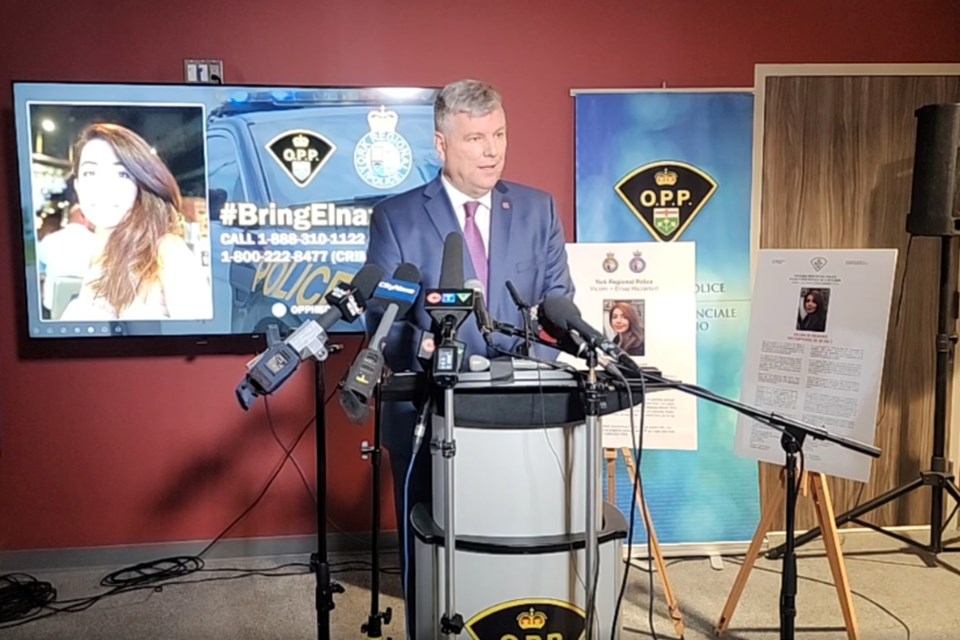 Graham joined York Regional Police today for a news conference marking the one-year anniversary of Hajtamiri's abduction, and to announce a reward of $100,000 offered by the police forces for information leading to the location of Hajtamiri.
"At every juncture as we have brought this to the public's attention, as we have tried to do today with the media event, we have received new information each time," said Graham. "I am hopeful that today's event will generate further information and most hopefully the tip, the information, that will lead us to where Elnaz is so we can provide the answers to the family."
Police have released composite sketches of two of the three masked suspects involved in the abduction. Both suspects wore dark jackets over fake police vests, balaclavas with white trim pulled up over their nose and mouth, a gold, red and blue badge chained around their neck and dark pants, according to police.
The first suspect is about six feet tall, very skinny, with light brown skin, and a long, narrow face. He was wearing a thick black belt with an attached handcuff pouch and holstered black gun with a magazine inside. The gun appeared to have been worn with metal areas exposed.
The second suspect is about five-foot-nine with lighter brown skin. He is stocky with skinny legs, wearing white/cream coloured shoes with a plastic toe cap, cotton black gloves and was carrying imitation handcuffs.
Hajtamiri is about five-foot-three with a slim build and had shoulder-length black hair that had been cut shorter before she was abducted. She immigrated to Canada from Iran less than five years ago.
Graham is asking the public to look closely at the sketches.
"We know someone recognizes these suspects and can provide us that bit of information," Graham said in a news release. "We hope that anyone with any information will do the right thing by coming forward to police."
Police established a dedicated tip line for the investigation in January. Anyone with information on this abduction and home invasion can call the dedicated tip line at 1-888-728-3415. Police are also using the hashtag #BringElnazHome on social media. Information can also be reported anonymously to Crime Stoppers at 1-800-222-TIPS (8477).