Sunset Speedway, tucked away along Yonge Street in Innisfil, is a gem of a racetrack for car-racing enthusiasts.
The oval track hosts racing every Saturday night from May through to September each year. On Saturday night, it was First Responders Night, with members of emergency services in attendance along with a show of love and support for police, fire and paramedic services.
Rich Lowell, who is the deputy fire chief in Midland, was on hand and says he loved every minute of the night.
"I just think it's great to show support for all the police, fire, EMS services in the area. Events like this makes us feel really appreciated," he tells BarrieToday.
Lowell is very much an auto-racing fan, so he was in his element.
"I'll watch all of them. I was watching Formula One qualifying this morning, and I'm a big NASCAR fan. In our old stomping grounds down in Niagara region, we used to go to Merrittville Speedway, down in Thorold," he says. "Now that we live up here, and we've only been up here two years now, we've started coming here."
Race-car driver Samantha Shaw, 27, driving a Pro League model car, hails from Guelph, hit a bit of a snag during her event and had to pull out of the race before being able to get to the finish line.
As she stood next to her car while her crew pulled a rear wheel off, she helps troubleshoot the situation.
"It sounds like one of the mounts on the rear end kind of ripped off," she says. "We're not real sure yet. They are kind of diagnosing it, so hopefully it's not fatal, but something like this usually is.
"It doesn't give you any kind of notice; it just kind of broke. And then there's all kind of metal-on-metal racket and it bounces weird. And no brakes," Shaw adds.
Those are the brakes, as they say. Well, kind of.
Walking around the track through the crowd, which looks to be near capacity on a sunny early evening, fans take in all the fast-paced action.
Brayden Amyotte, who is nine years old, says he goes to the races a couple of times a year with his dad, Shawn.
Speed is his favourite part. "They go so fast."
He also likes the loud roaring of the engines, which barely lets up for a moment throughout the night, and says that it doesn't hurt his ears.
"I'm OK with it. I want to be a driver and drive Mustangs, maybe," he added.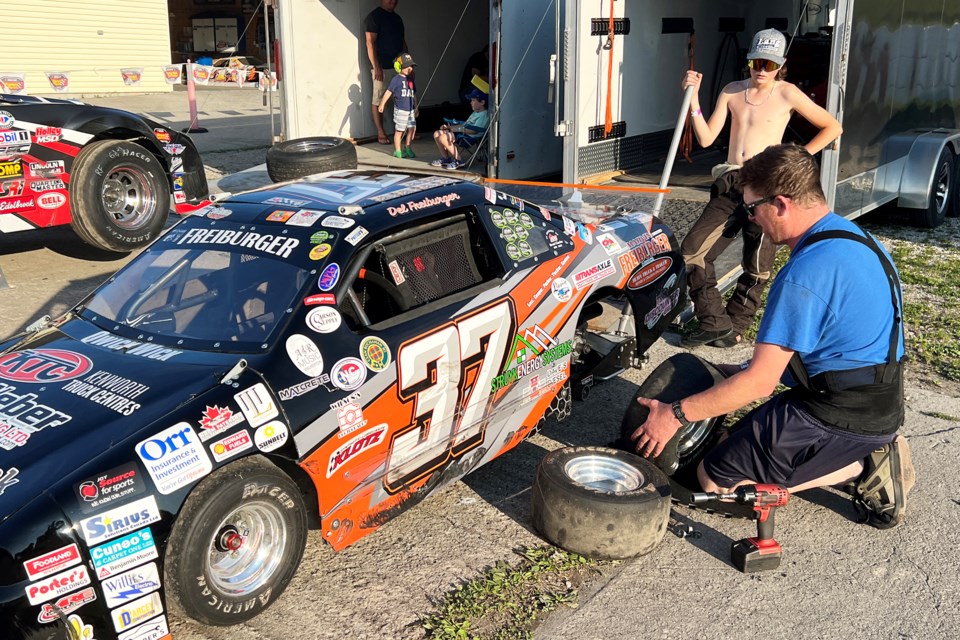 Thirteen-year-old Del Freiburger, of Walkerton, does just that. He has been racing cars for five years already and sits behind the wheel of mini stock cars that race 25 laps. He's a successful young racer who has won seven of his 12 races so far this year, and he usually runs in about 20 events in a season.
Despite his impressive win record, his favourite part is the mechanic aspect of racing.
"Working on the car, I love doing that," he says with a smile.
His father, Ben Freiburger, describes his role on his son's team.
"The best way to put it is that I'm the mechanic. I don't do everything, he does a lot of it himself, now that he's learning a lot," says dad. "He does a pile of work on his own in the shop at home. Essentially, I am the one that does all the nut-and-bolt checking and makes sure it goes around in a circle."
Ben says that the mini stock cars that his son drives, reach speeds upwards of 100 kilometres per hour, is his best guess.
Does Del's father worry for his son as a parent?
"Every day. Every time he's on the racetrack I get the shakes," he admits.
"My biggest thing, though, is that I would never put him in something that would cause him any kind of harm, and honestly, he's 10 times safer being in one of these mini cars than when he would be on a dirt bike or a four-wheeler," Ben says. "He's strapped in with a five-point harness, he's in a full roll cage; it's probably one of the safer sports. You can come to a halt pretty quick, but it's definitely one of the safer sports."
Del's dad also goes on to explain that there are definitely benefits for his son when it comes to being a fledgling race-car driver.
"The biggest one ... is that it helps him improve his hand-eye co-ordination," Ben says. "It helps him interact with other kids, and helps him learn how to make quick manoeuvres, and smart manoeuvres, hopefully, when he goes through a wreck, or if there is something in his way. It's helped him mature a lot."
As far as their success, the Freiburgers say they are not in the racing game to make money for themselves.
"We donate all our winnings away," says Ben. "Everything goes to Easter Seals or to families who have a serious illness.
"My dad, Martin Freiburger, started doing that 15 years ago when he started racing, and to date we've already given away over $100,000," he adds. "We have a bunch of families we know in the general area. Last Monday, we just gave a cheque away to a fellow from the Orangeville area. He's dealing with a really rare cancer, and we've tried to help him with his parking fees when he goes to Toronto, and his overnight stays, and stuff like that.
"Because of our hard work through life, we don't do this to make money — we go to win the money to give it away. And we're not trying to put ourselves on a pedestal whatsoever, but that's just our mentality and how we want to help."
Beyond the money and the charitable ways, young Del Freiburger says he loves the attention he gets out of being a race-car driver from his friends at school.
"They think I'm really cool."
And the girls?
"No, we don't talk to the girls yet," he says with a laugh.