Update (8:49 a.m.): At around 8:45 a.m., a reporter at the scene says a shielded robot was used to purposely detonate a device in an apartment building parking lot at 108 Anne St. N., creating a "very loud" explosion. Dust came off the device and the robot was jostled from the explosion.
*************************
Residents who live near the Anne Street bridge in Barrie are being asked to stay in their homes this morning as police continue to investigate "an ongoing incident."
Several social media posts reported the situation as being a possible bomb threat, however Barrie police officials were unable to confirm the specifics of the incident to BarrieToday.
"What we are doing right now is in the interest of public safety and we don't want anybody to venture out unnecessarily. Obviously, if you have a house in the area, and you have a pet, you ask that you take them out very quickly and then return back home," said Barrie police communications co-ordinator Peter Leon.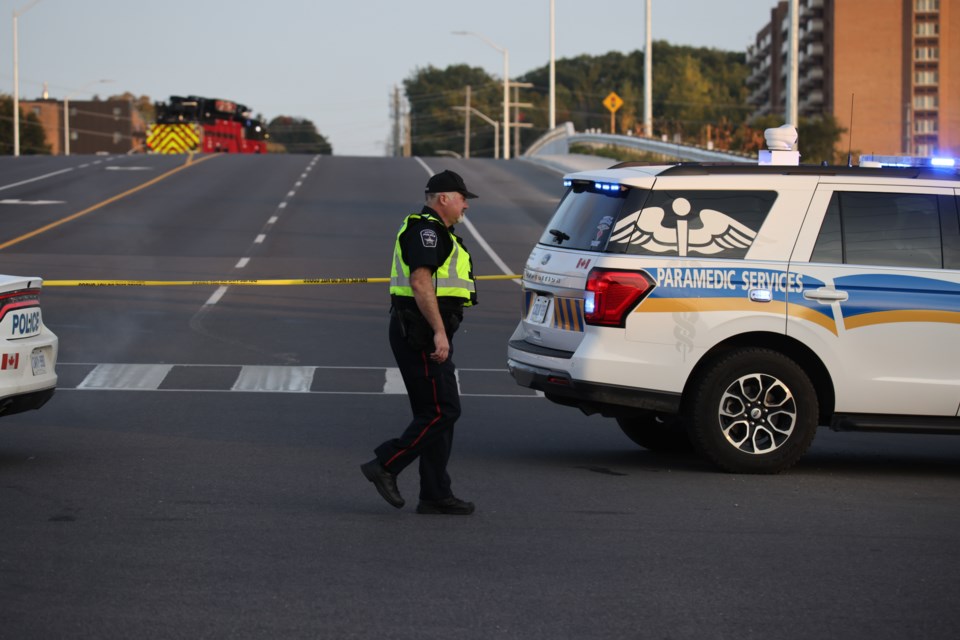 Barrie Police Update #2 pic.twitter.com/AASnTKvoO9

— Barrie Police (@BarriePolice) September 27, 2023
Leon said emergency personnel were called to a "significant occurrence" just before 3 a.m., Sept. 27, which resulted in Barrie police, firefighters and Simcoe County paramedics attending the scene.
"We are now collectively working together to deal with the situation. Now that we have daylight upon us that will assist us, but we are utilizing all necessary measures and resources within our service to effectively deal with this situation," Leon said. "Police are asking people that live in that immediate area to remain in their residences or apartments unless told otherwise."
Leon added there will be movement of vehicles allowed in or out of the immediate area until further notice.
"We are asking the public to refrain from coming down into the area. We have a very fluid, ongoing investigation that occurred as a result of an incident that took place just before 3 a.m.," he added.
Road closures are in place at Anne and Wellington streets, Anne Street and Gibbon Drive, as well as at Anne Street and Leacock and Edgehill drives.
We will have more information as it becomes available.