Barrie is gearing up for a special fundraising event at the Ferndale Banquet Hall to support Diabetes Canada. The evening promises to be a memorable experience with a live performance by the acclaimed tribute band, The Country Legends.
The Country Legends Tribute Tour has earned its reputation as the premier country music tribute show in North America. This live concert showcases tributes to two iconic figures in the country music scene: Keith Urban and Shania Twain.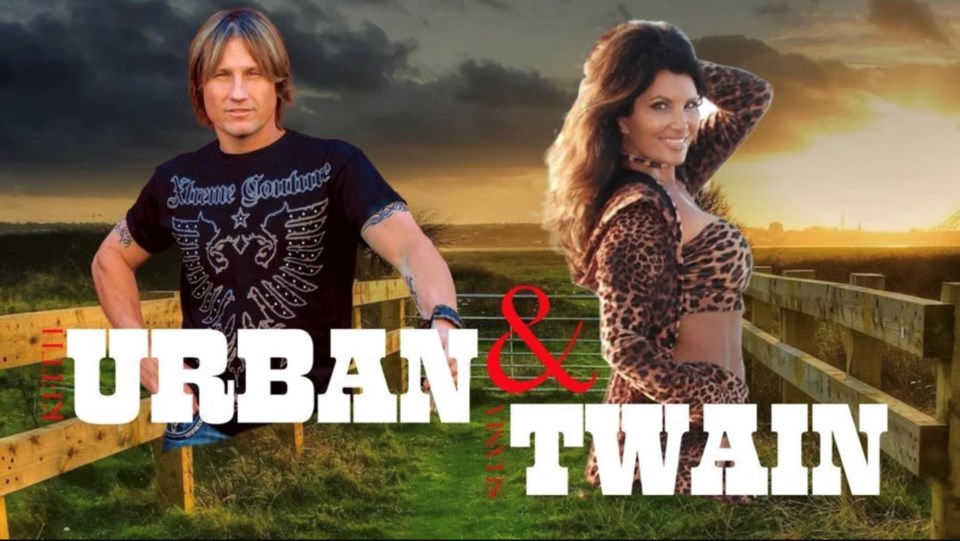 With 14 #1 songs, and 28 Top 5 hits, Keith Urban is one of the top entertainers today. Michael Thomson is considered to be the most look and sound-alike tribute in the world and his high-energy live show has won countless accolades.
Donna Huber, who performs under the stage name Shania Twin, brings her own dazzling act to the Ferndale Banquet Hall. She has orchestrated a tribute to one of country music's most prominent stars, Shania Twain.
Twain is the biggest-selling female artist in the history of country music, according to Billboard Magazine. She blazed a trail with her pop crossover hits in the nineties, beginning with 1995's The Woman In Me. Her song You're Still the One, from 1997's Come on Over, spent 42 weeks on the charts.
Curated by the impersonators themselves, the show is backed by accomplished musicians with extensive careers spanning over 30 years. Both performers will deliver a series of chart-topping hits from the featured artists, complete with authentic costume changes.
This highly sought-after show consistently sells out for a big reason – immerse yourself in the monumental hits of two extraordinary Country Legends.
Date: Thursday, November 30, 2023
Time: 7:30 PM (Doors open at 7:00 PM)
But this benefit concert is not just about the music. It's about raising awareness and helping Canadians deal with one of the most prevalent diseases in the country.
Battling diabetes is a constant challenge, as it impacts 11.5 million Canadians, with one in three individuals affected. It's a serious threat – another Canadian is diagnosed with diabetes every three minutes.
There are three major types of diabetes. Type 2 diabetes is the most common diagnosis, followed by type 1 diabetes. Gestational diabetes occurs during pregnancy, and is usually temporary. In addition, prediabetes is another important diagnosis that indicates an elevated risk of developing diabetes.
People with type 1 diabetes aren't able to produce their own insulin (and can't regulate their blood sugar) because their body is attacking the pancreas. Roughly 10 percent of people living with diabetes have type 1, insulin-dependent diabetes.
People with type 2 diabetes can't properly use the insulin made by their bodies, or their bodies aren't able to produce enough insulin. Roughly 90 percent of people living with diabetes have type 2 diabetes.
Type 2 diabetes is most commonly developed in adulthood, although it can also occur in childhood. Type 2 diabetes can sometimes be managed with healthy eating and regular exercise alone, but may also require medications or insulin therapy.
The proceeds from this event are a meaningful contribution to Diabetes Canada's mission. This mission extends beyond the events on stage – it's a commitment to lead the fight against diabetes. By supporting this cause, you directly contribute to Diabetes Canada's efforts to help individuals with diabetes live healthy lives while they tirelessly work towards finding a cure.
The event is not only a musical trip through Nashville, but also a chance for the community to rally around a cause that touches the lives of one in three Canadians.
By attending the fundraiser, you'll not only enjoy an evening of musical hits, but also contribute to the well-being of your community.
For more information on diabetes, the Diabetes Canada website is the best online resource hub for Canadians living with diabetes. It provides easy-to-understand information about living and eating well with diabetes, plus interactive tools, educational webinars, recipes, events and much more.
Let's come together for an evening of melody and meaning, as The Country Legends set the stage for a brighter and healthier future for people living with diabetes.
To purchase tickets to The Country Legends benefit show in Barrie, click this link or call the event info Line at 1-888-777-9793.